| | |
| --- | --- |
| Click image for larger view | Click image for larger view |
In the early 1920's a service station was built in Dundee, Nebraska near the corner of Dodge Road/Hwy 6 and 50th Street. Over the decades the full-service gasoline and auto repair station would be re-built and shift locations slightly but still be a part of this growing, vibrant community. Now at the bustling corner of 50th & Dodge, Buchanan's Service is still an integral part of Dundee neighborhood of Omaha as a complete vehicle repair center.
Come to the Dundee Buchanan's Service Center, featuring a BP gas station that includes a full-service island a car wash and small  Convenience Store. Karl Larsen manages this Buchanan's Service Center with a team of experienced, qualified mechanics repairing and maintaining vehicles seven days a week.
From flat tires to complex engine repair, and even routine vehicle maintenance, trust Dundee Buchanan's Service Center to do your job right, on time and as quoted. Buchanan's offers free pick up and delivery along with customer
See mechanic hours and exact location of the Dundee Buchanan's Service Center below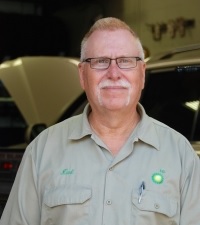 Karl Larsen
Born and raised in Omaha, Karl took an interest in working on engines with his first car, a '67 Impala.  The mechanic bug that bit him at 16 years old never left.  After high school Karl enrolled at Metro Tech to become an electrician.  That lasted one semester.  Karl had a friend who fixed cars at Woolco stores where we would often go to chat with him and help.  Eventually the manager asked Karl if he wanted a job to get paid fixing cars.  Sure now of what he wanted to do in his life, Karl changed his field to automotive mechanics and finished Metro Tech.  He later went to Burt St. 66 service station where the owner later also became his father-in-law!
Karl also worked at Zenith-Nixon before starting at Buchanan's Service at 50th & Dodge in 1990 where he's been since.
"There's a real satisfaction for me solving problems with my mind and hands," Karl shares, "most of it comes easy but I do enjoy the challenge as well.  Overall, it's great making a living doing something I really love." Karl is a regular co-host on the local Mr. Mechanic radio show on 1110 KFAB.
Buchanan's Service
5001 Dodge Street
Omaha, NE  68132
402-553-7374
Open 24 hours, 7 days a week
Mechanic hours: Monday – Friday 7am – 11pm, Saturday – Sunday 8am – 5pm
Towing services available 24 hours, 7 days a week