| | |
| --- | --- |
| Click image for larger view | Click image for larger view |
For over 80 years there has been a service station at this location seven miles west of the Missouri River on U.S. Hwy 6, then on the north side of the road adjacent to the Tower Motor Court. Today, in the middle of now a busy hospital and retail district of Omaha, at the intersection of Dodge Street and West Dodge Road, is one of the premier vehicle repair shops of Buchanan's Service Centers.
At the West Dodge Buchanan's Service Center is a BP gas station with a full-service island and car wash, a small Bucky's Convenience Store as well as a full automotive repair shop with trained, skilled mechanics that work on any make or year of vehicle. Heading this Buchanan's Service Center is the well-experienced mechanic and manager Bob Fenster. Bob is a frequent co-host of the local Mr. Mechanic radio show on 1110 KFAB.
Mechanics are working at this Buchanan's Service Center seven days a week. For any problem, large or small, or routine maintenance, you can count on Buchanan's to do your job right, on time and as quoted. Buchanan's offers free pick up and delivery along with customer loaner cars available by appointment.
See mechanic hours and exact location of the West Dodge Buchanan's Service Center below.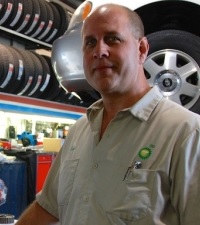 Bob Fenster
When 14 years old, Bob joined his dad in re-building a 1948 Chevy pick-up within the garage of their Milford, Nebraska home.  It was during that experience that Bob also became excited about what he had watched his father doing all these years–fixing cars.  Bob enjoyed driving and working on that classic pick-up as well as fixing his friends' cars.  After high school Bob attended mechanics school at South East Community College in Milford.  From there he went to California for two years, then returned to Nebraska taking a job at Buchanan's Service at 50th & Dodge.  Six years later, Bob moved over to the gas station and auto repair center at 80th & Dodge where he's resided since.
When Bob's not fixing cars at work he's home working on anything else. "I just enjoy figuring out how something works", says Bob. "Rather than always replacing and buying new, I have more fun keeping things going for as long as possible."  Bob held on to that '48 Chevy and kept it going for 33 years before finally selling it.  Just recently, Bob worked with his 16 year old son in rebuilding a 1969 Chevelle, starting another generation of auto repair fervor.
Buchanan's Service Center
7911 W. Dodge Road
Omaha, NE 68114
402-393-2722
Open 24 hours, 7 days a week
Mechanic hours: Monday – Friday 7am – 11pm, Saturday – Sunday 8am – 5pm
Towing services available 24 hours, 7 days a week