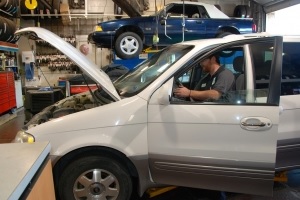 Today's engines are built to run longer…100,000, 150,000 even up to 200,000 miles! But only if you as the owner take care of that engine, making the time for regular engine maintenance–and not waiting for warning lights come on and your engine left gasping for life.
Skilled & Seasoned Mechanics
Buchanan's mechanics are continuously trained to better know today's engines. They're working on these engines everyday so have the invaluable experience of what looks, sounds and feels right or wrong. Our mechanics have all the background and knowledge so you don't have to worry or even be aware of all the components that need to be routinely checked.
15,000 Mile Increment Check-ups
Fortunately all you need to do is keep track of your odometer for key mileage increments. Every 15,000 miles bring your car, truck, van or SUV to Buchanan's Service Centers. Our mechanics will make a comprehensive check over key engine components for their performance, cleaning, repair or replacement. They know at what mileage increment the particular parts of your model vehicle that need to be checked.
Your routine "mile-stones" for vehicle assessments are:
15,000
30,000
45,000
60,000
75,000
90,000
105,000