Towing and Service Calls within the Omaha/Council Bluffs Metro Area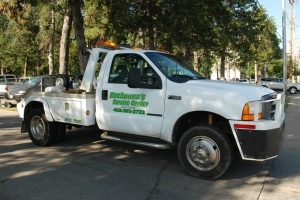 Our Buchanan's Service fleet is on the go day & night making car calls! That means we come right to your vehicle. If your car has left you stranded, there's nothing better than seeing a Buchanan's truck arrive with an experienced mechanic and the right equipment for the job.
Buchanan's Service comes prepared to help in a variety of ways to get you back on the road. Here are the services we provide you from morning through night. If your car is broke down within the Omaha/Council Bluffs metro area, Buchanan's Service is just a phone call away.
Need a tow?
Few things can ruin your day more than the stress of a broke down vehicle that's going nowhere. Call Buchanan's Service to save the day!
We're available to call for towing 24-hours/7-days a week
Buchanan's tows cars, vans, SUV's and trucks up to two tons
We'll tow your vehicle to our repair garage, or anywhere else you want in the Omaha metro
Car not starting?
If you're stranded because of a battery fail, Buchanan's Service can come to the rescue.
Test your battery's strength
Jump start your vehicle
Clean the battery connections
Flat tire?
If you have a tire just flat out of air, call Buchanan Energy for on-location pit stop service.
If you have a tire very low on-air with a slow leak, we can air it back up to let you drive home or, better yet, to our shop for leak repair
Buchanan's Service trucks come equipped with jacks and tools to raise up your vehicle. We can remove your flat tire and install your spare
We can repair your flat tire or get you a new tire replacement. Buchanan's Service can match your brand and size of tire
Ran out of gas?
Buchanan's Service can bring fuel out to you–whatever grade–and get it in your vehicle so you can resume driving
Locked out of your vehicle?
Call Buchanan's Service technicians have the skills and tools to unlock your vehicle
Metro Omaha/Council Bluffs On Call Service
Call either Buchanan's Service location when you need help. For best convenience:
East of 72nd Street, including Council Bluffs and Bellevue – Call Buchanan's Service at 402-553-7374
West of 72nd Street, including Ralston, La Vista, Papillion and Gretna – Call Buchanan's Service at 402-393-2722