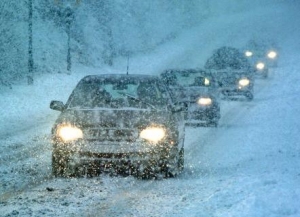 "It's about extreme temperatures", says Bob Fenster, manager at Buchanan's Service at 80th & West Dodge, "temps that swing very hot or cold. That's when parts fail, and cars break down". If there is anything on your vehicle worn, torn, loose, low or compromised, it will likely come to haunt you in winter's worse. Winterizing your car means making sure it's ready to perform its best for driving in snow as well as starting in below zero weather. Better to be proactive and get your car or truck examined before winter starts. Because you know if your car fails in the first snow or freeze, that's when lots of other folks are needing to get their cars fixed too!
The easiest way to winterize your car is to schedule a fall oil change at Buchanan's Service. For no extra charge, Buchanan's also completes a 16-point inspection that includes those critical components you want to be at their best for winter. Your mechanic will go over the list with you and point out the most immediate concerns so you can prepare your car now to run at its prime all winter
Critical factors you should make sure are inspected and ready on your car are:
Tires – check tread depth and condition of sidewalls
Brakes – inspect thickness and wear of pads along with surface of rotors
Battery – determine age of battery, ability to charge and quality of connections
Antifreeze – survey fluid's cleanliness and density of fluid and fluid level
Belts & Hoses – examine for cracks or fraying as well as good belt tension and hose connections
Wiper Blades – check blades for tears or corrosion
Come to either Buchanan's Service Center for an oil change and we'll do a complete performance and reliability check-up on your vehicle, particularly with those critical components needing to operating at their best for winter. Buchanan's does oil changes and vehicle check-ups Monday – Friday 7:00am – 11:00pm or Saturday – Sunday 8:00am – 5:00pm.