Here in the Midwest where slushy ice and a fair amount of blowing and drifting snow can occur, you may want to consider snow tires. Today's new cars oftentimes are equipped with performance tires and don't come snow tires nor all-season tires. Even all-season tire are exactly what the name implies, that the tire is constructed for a wide variety of driving conditions.
Snow tires are constructed with softer rubber compounds and have special trend designs for greater traction in icy and snowy conditions. These tire surfaces are made to channel and push water and snow out of the way, to give you a better grip on the road and ability to safely stop. Some lines of snow tires have "siping", which are thin horizontal slits across the tire surface for further improved traction.
Tire inflation is also a critical component. A slightly less inflation means more tire surface and contact to the road. Over inflation lessens the contact surface. But don't go to any any extreme. It's best to stay within the auto manufactures' recommended pressure's for the best traction in winter weather conditions.
Finding & Fixing the Real Problem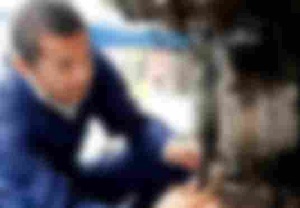 Today's engines are as much electronics as they are nuts, bolts and moving parts. But not every mechanic understands enough about these dynamics to make a repair, let alone a recognize what's really even wrong with an engine. Buchanan's Service Centers continuously invests in the most current technical training and tools to quickly diagnose and repair problems, even on today's sophisticated car and truck engines. Trust Buchanan's Service for guaranteed repair or replacement of your
Starter
Alternator
Spark plugs and wiring
Timing belt
Battery and Charging System
Electrical System
Fuel System
Head Gasket
Coolant System
For routine vehicle maintenance, or for when that alarming Service Engine light comes on, you don't need to go to a car dealer. Buchanan's Service Centers have access to tech manuals and specs for all models of cars, vans and trucks to do accurate engine repair. Rely on Buchanan's Service to fix it right and on-time to save your time and money.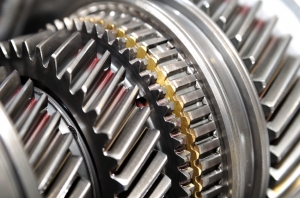 The transmission is one of the most complex and intricate components of a car that few mechanics dare to venture. But Buchanan's Service mechanics understand and will go in to repair transmission, differential or transfer case.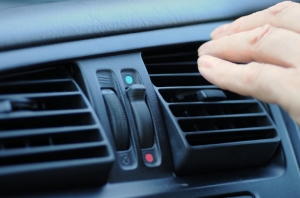 Buchanan's Service can do everything from quick A/C recharges to complete system overhauls, including compresser, evaporator & heater core replacements.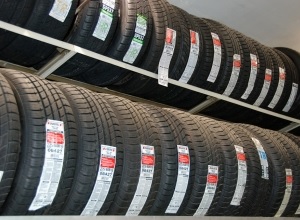 Buchanan's Service repairs tires while you wait. We understand how these inconveniences can happen on your busiest day so help you get fixed up and back on the road as soon as possible.
Buchanan's Service also has access to all brands of tires. We can match your brand and tire, upgrade your tire or fit you with a tire for your budget. Our tire replacement includes balancing, mounting and proper tire rotation if necessary.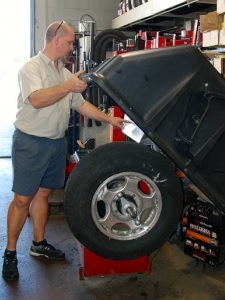 Come to either Buchanan's Service Center for tire repair Monday – Friday 7:00am – 11:00pm or Saturday – Sunday 8:00am – 5:00pm.
Tire replacement is also available during these hours, though evenings and weekends are limited to tires that we have in stock.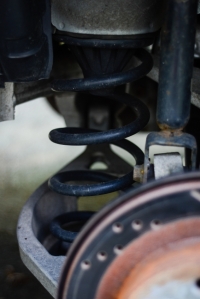 Your family's safety depends greatly on the performance of the brakes and shocks on your vehicle.
Trust Buchanan's Service for thorough and exact brake repair. Buchanan's Service goes through your entire brake system to examine, replace or fix:
brake pads or shoes
calipers
drums
rotors
bearings
parking/emergency brake
anti-lock brake system (ABS)
traction control system
As shocks and struts wear out, they lose their ability to cushion wheel and body movement which makes it more difficult to control your vehicle. Stopping distances become longer and you risk nose-diving coming to a sudden stop as well as experiencing a car rollover. Plus, worn shocks and struts add more impact and jolts to your vehicle's suspension system, along with every part attached to it. As result, other components on your car subjected to these harsh movements can fatigue and break faster.
Replacing worn shocks and struts at Buchanan's Service makes for safer driving and less wear over all on your vehicle. As an added benefit, new shocks and struts bring that new ride feel back to an older car and truck.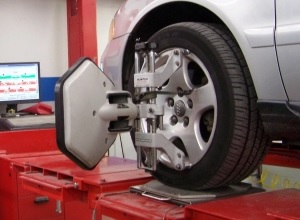 While driving if you feel a vibration in your steering wheel, or your car or truck pulling to one side, it's likely that you have a bad wheel alignment. Pot holes, continuous stop-go-turning city driving as well as eventual worn front-end suspension parts all affect your vehicle's original manufacturer calibration and ability to maneuver at its best. Come to Buchanan's Service to examine and solve the problem with a precise vehicle alignment.
Having good tires put on your vehicles these days is a serious expenditure. If you don't get a proper tire balance or a front end alignment you risk those tires wearing improperly then wearing out too soon. Unfortunately it's an irreversible mistake you won't recognize till around 5,000 miles later. Having your new tires balanced and getting an alignment protects that tire investment.
Towing and Service Calls within the Omaha/Council Bluffs Metro Area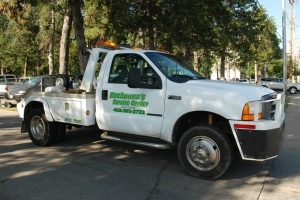 Our Buchanan's Service fleet is on the go day & night making car calls! That means we come right to your vehicle. If your car has left you stranded, there's nothing better than seeing a Buchanan's truck arrive with an experienced mechanic and the right equipment for the job.
Buchanan's Service comes prepared to help in a variety of ways to get you back on the road. Here are the services we provide you from morning through night. If your car is broke down within the Omaha/Council Bluffs metro area, Buchanan's Service is just a phone call away.
Need a tow?
Few things can ruin your day more than the stress of a broke down vehicle that's going nowhere. Call Buchanan's Service to save the day!
We're available to call for towing 24-hours/7-days a week
Buchanan's tows cars, vans, SUV's and trucks up to two tons
We'll tow your vehicle to our repair garage, or anywhere else you want in the Omaha metro
Car not starting?
If you're stranded because of a battery fail, Buchanan's Service can come to the rescue.
Test your battery's strength
Jump start your vehicle
Clean the battery connections
Flat tire?
If you have a tire just flat out of air, call Buchanan Energy for on-location pit stop service.
If you have a tire very low on-air with a slow leak, we can air it back up to let you drive home or, better yet, to our shop for leak repair
Buchanan's Service trucks come equipped with jacks and tools to raise up your vehicle. We can remove your flat tire and install your spare
We can repair your flat tire or get you a new tire replacement. Buchanan's Service can match your brand and size of tire
Ran out of gas?
Buchanan's Service can bring fuel out to you–whatever grade–and get it in your vehicle so you can resume driving
Locked out of your vehicle?
Call Buchanan's Service technicians have the skills and tools to unlock your vehicle
Metro Omaha/Council Bluffs On Call Service
Call either Buchanan's Service location when you need help. For best convenience:
East of 72nd Street, including Council Bluffs and Bellevue – Call Buchanan's Service at 402-553-7374
West of 72nd Street, including Ralston, La Vista, Papillion and Gretna – Call Buchanan's Service at 402-393-2722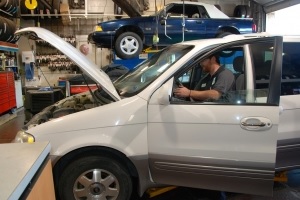 Today's engines are built to run longer…100,000, 150,000 even up to 200,000 miles! But only if you as the owner take care of that engine, making the time for regular engine maintenance–and not waiting for warning lights come on and your engine left gasping for life.
Skilled & Seasoned Mechanics
Buchanan's mechanics are continuously trained to better know today's engines. They're working on these engines everyday so have the invaluable experience of what looks, sounds and feels right or wrong. Our mechanics have all the background and knowledge so you don't have to worry or even be aware of all the components that need to be routinely checked.
15,000 Mile Increment Check-ups
Fortunately all you need to do is keep track of your odometer for key mileage increments. Every 15,000 miles bring your car, truck, van or SUV to Buchanan's Service Centers. Our mechanics will make a comprehensive check over key engine components for their performance, cleaning, repair or replacement. They know at what mileage increment the particular parts of your model vehicle that need to be checked.
Your routine "mile-stones" for vehicle assessments are:
15,000
30,000
45,000
60,000
75,000
90,000
105,000
In Omaha there are still two gas stations that offer full service at the pump. Come to either Buchanan's Service Centers and among our self-service pumps is a full service island. It's where we come out to you so you don't have to get out! But filling your tank is just one of many amenities we provide you. Take advantage of as many of these car pampering services as you wish including:
clean all your windows
check your engine oil and all fluid levels
check air pressure on all your tires
vacuum your vehicle
run your vehicle through our car wash  Free Car Wash with Fill
Click images for larger view
No other part of your vehicle is subjected to more bumps, jars, screeches and burn-outs than your tires. With all that consistent use and abuse, Buchanan's Service Centers recommends assessing your tires at least once a month for wear and tear.
You don't have to rely on a pro to make that call because with these visual and performance cues, you can check your own tire's health and decide if it has more life or needs replacement.
Wear Bars
Every tire has a built-in system for determining tread life. Manufactured within the tire's groove are ridges, or wear bars, spaced inches apart all around the tire. On a new tire the wear bars are deep within the grooves, well below the tire surface. Over the thousands of miles of driving—even locally—the tire tread wears down and decreases. You'll notice the tire grooves are diminishing. If your tire's surface is ever close or even with those wear bars it means that your tire has worn down to only 2/32 of tread. That's a sure indicator the balding tire is less effective on the road, especially wet pavement, with not enough tread and traction to effectively maneuver and suddenly stop the car in the shortest amount of space. Your safety is at risk and it's time to replace that tire.
The Penny Check
Another common, easy way to check your tread is using a penny. Turn the penny so that Lincoln's head faces down and place it in the tire's groove. When your tire has high tread you shouldn't be able to see penny's edge or even most of Lincoln's head. But If you can see the top of Lincoln's head, your tire's tread is too shallow and the old tire should be replaced.
Cracks
Just as important as the tread are the sides or walls of your vehicle's tires. Cracks on the sides of tires are signs of stress and fatigue on the tire wall. A weakening wall can preclude a tire blowout hitting the right pot hole or other severe bump. It's best to check the walls on both sides of the tire. So you not only have to get to the level of the tire to assess the outer walls, but also grab a flashlight, get on your back and scoot just enough under the vehicle to inspect the inner tire walls as well.
Proper Tire Inflation
Proper inflation is essential to your tire's life. Information on the manufacturer's proper tire inflation can be found on the driver door or door jam and in the owner's manual. If your tires are typically under-inflated or over-inflated the tire will not wear properly and likely have a much shorter life. If your tire regularly looses air, the slow leak may be fixed with a plug or caused by small cracks in the tire. Unfortunately, tire cracks can not be repaired and the tire will need to be replaced.
The Feel of Driving Your Car
A rough ride can also indicate tire damage or excessive wear. If you notice any vibrations or other disturbances while driving, reduce speed and have your tires inspected as soon as possible. Those vibrations may be a warning that the tire is about to blowout.
Learning how to assess your tires' health can help you avoid a tire blowout, and even an accident. It can can also save from being misled into unnecessary tire changes. When you do have questions and concerns, trust us at Buchanan's Service Center in Omaha for honest evaluation, professional repair or proper tire replacement.
+ Thorough Vehicle Inspection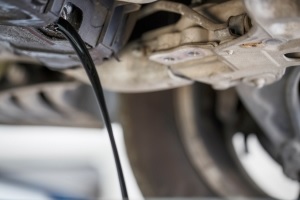 One of the most essential services you can do to lengthen the life of your vehicle's engine is getting routine oil changes. Oil is the life blood of the engine to lubricate and cool critical moving parts. That's why Buchanan's Service Centers install only the best oil filters and re-fill with the highest-rated recommended oil for your particular engine.
Engine Check-up!
While under the hood, Buchanan's Service does a complete performance and reliability check-up on your vehicle. This is a thorough inspection of the essential components, the basics, that get overlooked, but if not addressed can cause other problems later. Here's the list of items we cover on your car's check-up:
Air filter and cover
Battery
Tail lights
Brake lights
Turn signals
Tires
Windshield wipers
Windshield wiper fluid
Drive belts
Coolant system
Hoses
Headlamps
Front and rear shocks
Automatic transmission fluid
Exhaust system
If we any find thing wrong, before writing up an estimate, we'll explain it to you first and give a realistic time frame of when you should have it fixed. Buchanan's Service doesn't purposely look for problems to make more money from you. Our approach is to be honest. We want to keep you informed and happy with your car as well as trusting Buchanan's Service Centers.
Come to either Buchanan's Service Center for an oil change Monday – Friday 7:00am – 11:00pm or Saturday – Sunday 8:00am – 5:00pm.
We can fine-tune your car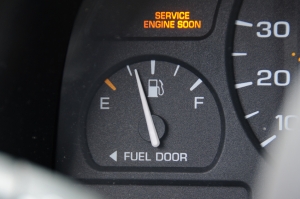 Today's new engines are more sophisticated that ever. When working properly they deliver a level of performance that we never before experienced. But it also means today's engines have more things to go wrong. Monitoring all the sophisticated aspects of modern engines is your vehicle's ECM, the Engine Control Module, often referred to as your car's on-board computer. When something goes wrong in your car's engine the ECM picks up on the problem and activates the Service Engine light–keeping it on till the problem is fixed. Since most of us have no idea what's actually wrong with our engine, that Service Engine light can easily put a scare into any driver.
If your Service Engine light comes on, bring your vehicle to Buchanan's Service Centers at your earliest convenience. Your engine's computer knows what's wrong and will tell us by code with the right equipment. Buchanan's has an ECM code reader that plugs into your car. We can cross reference the code number to any vehicle manufacturer and model. When the code is revealed, Buchanan's Service can quickly identify and solve your engine's problem.
Probable causes that your ECM detects include failures with your engine's:
Ignition coil
Fuel injector system
Emissions control system
Spark plugs or spark plug wires
Engine valves
Proper fluid levels
Your ECM is continuously gathering information from sensors placed throughout your vehicle's engine. Sometimes when a problem is detected the cause may actually be a faulty sensor. Buchanan's Service will test the sensor to see if it is faulty, then either clean or replace that sensor.
Service Engine Light Blinking Means "Immediately"!
If your Service Engine light begins blinking then the engine problem is quite serious. The blinking light is often accompanied with a rough running engine, particularly in idle. A blinking Service Engine light means you need to immediately get your car in for service. Likely the blinking light indicates that your catalytic converter is failing. Running the car much longer can cause further damage to the converter. If close by, get your car into either Buchanan's Service location. Best advice is to pull in the nearest parking lot, shut off your vehicle and call Buchanan's for a tow. The cost of the tow (which may be covered anyway by your auto insurance) is far, far less compared to the costly repair of the ailing engine running much longer.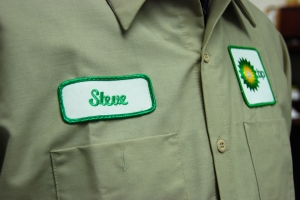 Mr Mechanic is Omaha's longest running local radio show, airing on News Radio 1110 KFAB-AM. It's one hour all about cars, car care and car repair, hosted by Steve Buchanan, owner of Buchanan's Service Centers. Listeners can call in with their questions on anything about their cars. Rarely is Mr Mechanic stumped but the interactions are always entertaining. Co-hosts, guest-hosts and contributors on the Mr Mechanic show include Bob Fenster and Karl Larson, each a manager of the two Buchanan's Service Centers as well as car expert Dr. Mark Grabow.
In 1988 KFAB approached Steve, then mechanic and owner of Buchanan's at 50th & Dodge, about hosting this new talk show about cars. Steve agreed to do the hour long Saturday morning program and has remained host for over 25 years.
Mr Mechanic Show
Saturday 11:00am – 12:Noon
KFAB 1110 AM and kfab.com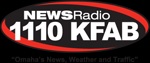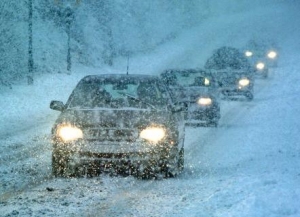 "It's about extreme temperatures", says Bob Fenster, manager at Buchanan's Service at 80th & West Dodge, "temps that swing very hot or cold. That's when parts fail, and cars break down". If there is anything on your vehicle worn, torn, loose, low or compromised, it will likely come to haunt you in winter's worse. Winterizing your car means making sure it's ready to perform its best for driving in snow as well as starting in below zero weather. Better to be proactive and get your car or truck examined before winter starts. Because you know if your car fails in the first snow or freeze, that's when lots of other folks are needing to get their cars fixed too!
The easiest way to winterize your car is to schedule a fall oil change at Buchanan's Service. For no extra charge, Buchanan's also completes a 16-point inspection that includes those critical components you want to be at their best for winter. Your mechanic will go over the list with you and point out the most immediate concerns so you can prepare your car now to run at its prime all winter
Critical factors you should make sure are inspected and ready on your car are:
Tires – check tread depth and condition of sidewalls
Brakes – inspect thickness and wear of pads along with surface of rotors
Battery – determine age of battery, ability to charge and quality of connections
Antifreeze – survey fluid's cleanliness and density of fluid and fluid level
Belts & Hoses – examine for cracks or fraying as well as good belt tension and hose connections
Wiper Blades – check blades for tears or corrosion
Come to either Buchanan's Service Center for an oil change and we'll do a complete performance and reliability check-up on your vehicle, particularly with those critical components needing to operating at their best for winter. Buchanan's does oil changes and vehicle check-ups Monday – Friday 7:00am – 11:00pm or Saturday – Sunday 8:00am – 5:00pm.